Description Of Street-Smart Spanish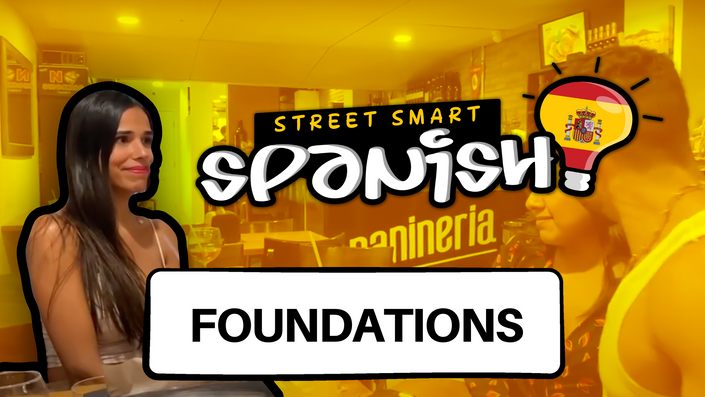 WANT TO LEARN SPANISH? PAY CLOSE ATTENTION… HAVE A CONVERSATION IN SPANISH ON THE STREET WITHIN 10 WEEKS!
JOIN MY #1 SPANISH COURSE FOR BEGINNERS!
I've created a beginner conversation course just for you.
It's called Street-Smart Spanish!
For this course, I partnered up with an amazing Spanish teacher.
Alejandra from "Spanish con Ale'' on Instagram and TikTok will be your host in this course. She's really nice and a great teacher!
Here she is…
She's prepared a very cool video series for you that will make your Spanish learning journey much more fun.
You'll learn everything you need to have fun and have 100% real conversations in Spanish, impress Spanish speakers in your neighborhood and your Spanish-speaking friends and relatives!
Your new Spanish skills will help you strengthen your relationships with Spanish speakers you meet and give an entirely new dimension to your life.
Trust me, you really do get a new soul with every new language you learn to speak…
The best thing?
You won't have to travel to Spain or Latin America. You also won't have to enroll in a language school and spend thousands of dollars.
What Is So Special About This Course?
FOCUS ON REAL-LIFE SITUATIONS
When you start speaking Spanish with somebody, they will always ask you the same questions:
How come you speak Spanish?
Where are you from?
Do you live here?
We'll focus on the words, phrases and sentence structures that you need for your first conversations in Spanish in practical real-life situations.
Think about situations like:
Ordering in a restaurant
Going to the airport
Interacting in a bar
Haggling at the market
Communicating at a bakery
Alejandra and her friends and I act out all these scenarios in video conversations to get you started speaking Spanish fast. We learn grammar naturally as it comes up in the dialogues, not by memorizing a list of points.
MAKE SENTENCES FROM DAY ONE
We don't just teach you a bunch of phrases that you need to learn by heart. You will learn patterns of speech so that you can make your own sentences in Spanish and say whatever you want.
You don't need any prior experience!
ALEJANDRA WILL BE YOUR PERSONAL VIRTUAL GUIDE!
Like the idea of learning Spanish with a teacher?
We've added "walkthrough" videos. Alejandra will walk you step by step through all the dialogues of each lesson and give an in-depth explanation of all vocabulary, pronunciation and grammar features.
You'll almost feel like you're in a virtual classroom with her as your private teacher, where every single line of dialogue is clearly and simply broken down and explained. This lets me guarantee you the learning experience I want you to have!
Not only that, but you'll be able to comment on all lesson content, and because of our passion for learning languages, not only do we read every single comment but we also usually reply!
About Arieh Smith
HI, I'M ARIEH!
My real name is Arieh, but most people know me as Xiaoma. I run the popular YouTube channel Xiaomanyc.
Tens of millions of people watch my videos every month and see how I make connections with people from all kinds of backgrounds, by speaking to them in their language.
I've studied over 15 foreign languages, including Chinese, Spanish, Korean, French, Wolof, Maya, Italian, Indonesian, Navajo, Hindi, Punjabi, and Tibetan.
People always ask me how I do it. I get emails literally every day!
With my chess game approach, I managed to hold conversations in all these languages after just a few weeks of studying.
Since I've launched my very first Chinese course ''Street-Smart Chinese,'' thousands of students from all over the world have joined and picked up a new language.
I understand that learning a language can be really boring and difficult because that's how I experienced it at school.
That's why I thought it was time to make language courses more practical for the real world!
More courses from the same author: Arieh Smith
---
DELIVERY POLICY:
When will I receive my course?
You will receive a link to download your course immediately or within 1 to 21 days. It depends on the product you buy, so please read the short description of the product carefully before making a purchase.
How is my course delivered?
We share courses through Google Drive, so once your order is complete, you'll receive an invitation to view the course in your email.
To avoid any delay in delivery, please provide an Gmail and enter your email address correctly in the Checkout Page.
In case you submit a wrong email address, please contact us to resend the course to the correct email.
How do I check status of my order?
Please log in to Skills Course account then go to Order Page. You will find all your orders includes number, date, status and total price.
If the status is Processing: Your course is being uploaded. Please be patient and wait for us to complete your order. If your order has multiple courses and one of them has not been updated with the download link, the status of the order is also Processing.
If the status is Completed: Your course is ready for immediate download. Click "VIEW" to view details and download the course.
Where can I find my course?
Once your order is complete, a link to download the course will automatically be sent to your email.
You can also get the download link by logging into your skillscourse.net account then going to Downloads Page.
You may also like:
The Topic Of Hard Skills – Soft Skills
See More Film Editing Pro Courses
See More Parker Walbeck Courses
The Topic Of Martial Arts
See More Expert Boxing Courses
See More Russell Stutely Courses
See More Barry Robinson Courses
The Topic Of Fitness And Sports
See More J3 University Courses
See More Bruce Frantzis Courses
See More Christian Thibaudeau Courses