Description of Servant Leadership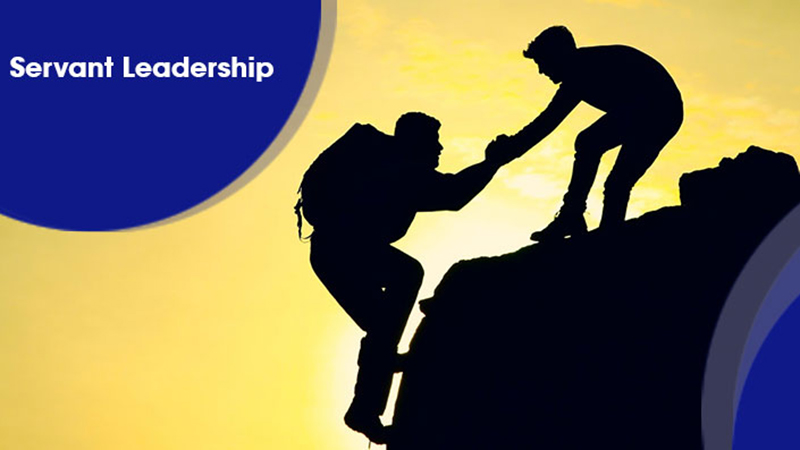 The Four Questions of 21st Century Leadership
Who Are You Serving?
How Can You Best Serve?
Are You Making Your Unique Contribution?
Are You Getting Better Every Day?
Servant Leaders communicate ethical standards and facilitate a supportive and respectful service culture that contributes to employee empowerment. In this course, you are introduced to the principles of Servant Leadership and the importance of fostering an ethical service culture using a number of cases to highlight leadership challenges and approaches.
With our Servant Leadership course, participants will learn to focus on the growth and development of their employees and ensuring their success. In doing so, the leader succeeds when their employees do. With a business team, servant leadership can not only help employees achieve and grow, but it can also benefit their leaders and the company as a whole.
What You'll Learn In Servant Leadership?
Upon successful mastery of this course, you will master the following:
What Servant Leadership is?
Leadership Practices
Share the Power
Characteristics of a Servant Leader
Barriers to Servant Leadership
Building a Team Community
Be a Motivator
Be a Mentor
Training Future Leaders
Self-Reflection
Want to master the art of fostering an environment of trust and respect at all levels, and achieve success!
Course Curriculum
Introduction

Servant Leadership (0:46)
Getting Started (1:06)

What is Servant Leadership?

What Is Servant Leadership? (3:28)
What Is Servant Leadership? Case Study (0:52)
Module Two: Review Questions

Leadership Practices

Leadership Practices (4:23)
Leadership Practices Case Study (0:50)
Module Three: Review Questions

Share the Power

Share The Power (4:08)
Share The Power Case Study (0:46)
Module Four: Review Questions

Characteristics of a Servant Leader

Characteristics of a Servant Leader (4:04)
Characteristics of a Servant Leader Case Study (0:36)
Module Five: Review Questions

Barriers to Servant Leadership

Barriers To Servant Leadership (4:06)
Barriers To Servant Leadership Case Study (0:50)
Module Six: Review Questions

Building a Team Community

Building A Team Community (4:15)
Building A Team Community Case Study (0:48)
Module Seven: Review Questions

Be a Motivator

Be a Motivator (3:43)
Be a Motivator Case Study (0:45)
Module Eight: Review Questions

Be a Mentor

Be a Mentor (4:38)
Be a Mentor Case Study (0:50)
Module Nine: Review Questions

Training Future Leaders

Training Future Leaders (4:12)
Training Future Leaders Case Study (0:52)
Module Ten: Review Questions

Self-Reflection

Self Reflection (4:15)
Self Reflection Case Study (0:53)
Module Eleven: Review Questions

Wrapping Up
About Stone River eLearnin
Stone River eLearning was founded in 2011, and since then we have taught over 1,000,000 students through our website and through our reseller partners. Our focus is on developing high quality video training in all areas of the technology field.
Benefits of Stone River eLearning Online Courses
Available 24/7 – Start learning immediately
30 day money back guarantee – No questions asked
Lifetime access to all purchased courses
Earn Certificates for completing courses
Project files included
We're here to help you when you need it
Stone River eLearning Staff
Mark Trego
Founder | CEO
Stone River eLearning is owned and operated by Mark Trego and his support and development staff of outstanding eLearning enthusiasts from around the world. Mark originally hails from Bismarck, North Dakota, but now resides near the tiny town of Sheldon, Iowa where he lives with his wife and 3 children on a working farm.
Mark's passions are entrepreneurship and online learning, so it was only natural that he gravitated towards what became the Stone River family of companies. Mark received his Master's Degree in Business Administration/Entrepreneurship from Benedictine University in Lisle, Illinois. His early career found him in finance, but he really found his passion as an education technology professional, instructional designer and college professor before starting Stone River eLearning in 2011.
Prasannika Thakur
Operations Manager
Prasannika has been an eLearning project manager for over 10 years for large online training companies. She runs the day to day operations for Stone River eLearning.
Peter Doak
Marketing
Peter Doak, previously head of a number of successful digital marketing agencies, has passion for the internet and its use within organizations. Peter has had a principal focus in the digital marketing space, including social media and content marketing.
Cheryl Ureta
Student Experience Manager
Cheryl began her career as a home health care nurse, caring for those who needed it most. She decided she wanted to work from home, and now she cares for you as our Student Experience Manager. Cheryl has been with Stone River eLearning from its inception in 2011.
---
DELIVERY POLICY:
When will I receive my course?
You will receive a link to download your course immediately or within 1 to 21 days. It depends on the product you buy, so please read the short description of the product carefully before making a purchase.
How is my course delivered?
We share courses through Google Drive, so once your order is complete, you'll receive an invitation to view the course in your email.
To avoid any delay in delivery, please provide an Gmail and enter your email address correctly in the Checkout Page.
In case you submit a wrong email address, please contact us to resend the course to the correct email.
How do I check status of my order?
Please log in to Skills Course account then go to Order Page. You will find all your orders includes number, date, status and total price.
If the status is Processing: Your course is being uploaded. Please be patient and wait for us to complete your order. If your order has multiple courses and one of them has not been updated with the download link, the status of the order is also Processing.
If the status is Completed: Your course is ready for immediate download. Click "VIEW" to view details and download the course.
Where can I find my course?
Once your order is complete, a link to download the course will automatically be sent to your email.
You can also get the download link by logging into your skillscourse.net account then going to Downloads Page.
You may also like:
The Topic Of Hard Skills – Soft Skills
See More Film Editing Pro Courses
See More Parker Walbeck Courses
The Topic Of Martial Arts
See More Expert Boxing Courses
See More Russell Stutely Courses
See More Barry Robinson Courses
The Topic Of Fitness And Sports
See More J3 University Courses
See More Bruce Frantzis Courses
See More Christian Thibaudeau Courses