Description Of Adobe Illustrator Mastery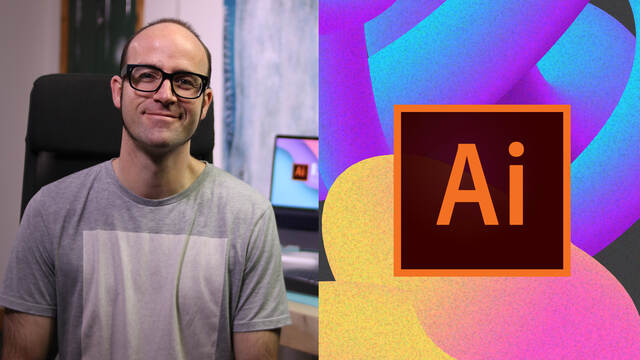 Take Your Adobe Illustrator Skills To The Next Level
After This Class You'll Be Able To:
Master depth and perspective and set permanent default fonts and colors.
Speed up your personal workflow and the Adobe Illustrator program.
Master color and make quick color adjustments, gradient measures and blend like a pro.
Perfect lines and strokes as well as vectorize and color hand-drawn sketches.
Connect Spreadsheets to make beautiful graphs and charts.
Perfect your drawing skills in Illustrator.
Use advanced keyboard shortcuts like an industry professional.
Master advanced repeating pattern swatches and typography with advanced font tricks.
Use Illustrator for Web and UI design.
About Daniel's Class:
Take a more advanced look at Illustrator CC and learn how to enhance your productivity and workflow with this in-depth project-based training.
This class will show you how to create instantly engaging designs using advanced tools and expert tips. Filled with downloads and stock images to practice on and hone your skills, this class covers everything from mastering color, drawing in Illustrator, working with advanced patterns, typography, depth, perspective, 3D, charts, graphics and so much more!
If you're ready to step up your Illustrator game, take this class to unlock and master pro techniques with a world-renowned expert.
What You Will Learn In Adobe Illustrator Mastery
How to turn the dreaded hyphenation feature off once and for all
How to transform, distort and blend like a pro
Advanced anchor point and pen tool tricks, two-tones, repeating patterns and advanced typography
How to use live shape effects, draw flowing curves, master corners and use the curvature and pen tools effectively
Advanced artboards, pages and color tricks and how to use the Illustrator color guide
How to make gradients bend, create long shadows, put text type into the shape of a letter and use the Touch Type tool
Shortcuts for aligning and distributing using Actions
How to make semi-flat 3D icons and animated GIF
LESSONS
1. Class Introduction To Advanced Adobe Illustrator CC
2. Getting Started With Your Adobe Illustrator Advanced Tutorial
DRAWING
3. Trick For Redrawing Hand Drawn Images In Adobe Illustrator CC
4. Curvature Tool Vs Pen Tool In Adobe Illustrator CC
5. Advanced Pen Tool Tricks Using Adobe Illustrator CC
6. How To Draw Flowing Curves In Adobe Illustrator With The Width Tool
7. Mastering Corners With Adobe Illustrator CC Corner Widget Effects
8. The Best Creation Tool In Adobe Illustrator CC The Shape Builder Tool
9. More Shape Builder Goodness
10. Using Live Shape Effects In Adobe Illustrator CC
11. Class Project – Drawing Exercise Using Width, Curvature & Corner Widgets
12. Drawing – Quiz
KEYBOARD SHORTCUTS
13. Advanced Keyboard Shortcuts For Adobe Illustrator CC
14. Keyboard Shortcuts – Quiz
COLOR & PATTERNS
15. Advanced Color Tips & Tricks For Adobe Illustrator CC
16. Using Color Themes In Adobe Illustrator CC
17. How To Color A Real Hand Drawing Using Adobe Illustrator CC
18. How To Use The Color Guide In Adobe Illustrator
19. How To Change All The Colors At Once In Adobe Illustrator Recolour Artwork
20. How To Make Gradients Bend In Adobe Illustrator CC Using Gradient Mesh
21. How To Make Long Shadows In Adobe Illustrator CC
22. How To Blend Images With The Background Colors In Adobe Illustrator Blend Modes
23. How To Make Images Black & White In Illustrator & Mix With Color
24. How Do You Make Anaglyphic Text Using Adobe Illustrator CC
25. How To Make Gradient Stroke Overlap & Mix Colors In Adobe Illustrator
26. How To Create A Duotone Image Effect In Adobe Illustrator CC
27. Advanced Repeating Pattern Swatches In Adobe Illustrator CC
28. Color & Patterns – Quiz
WORKFLOW SPEED
29. How To Change The Default Font & Swatches In Adobe Illustrator CC
30. Advanced Workflow Tricks For Adobe Illustrator CC
31. Shortcuts For Aligning & Distributing In Illustrator CC Using Actions
32. How To Proof Colors In Adobe Illustrator CC
33. Adobe Illustrator Is Running Slow, How Do I Speed Up Illustrator
34. How Best To Use Illustrator With Other Adobe CC Software
35. Workflow Speed – Quiz
TYPOGRAPHY
36. Advanced Fonts Tricks & Tips In Adobe Illustrator CC
37. How To Put Text Type Into The Shape Of A Letter In Adobe Illustrator CC
38. How To Use The Touch Type Tool In Adobe Illustrator CC
39. Typography – Quiz
STROKES & LINES
40. How To Multiply Strokes To A Path In Adobe Illustrator CC
41. How To Add A Stroke Line Around The Outside Of Text Or Shapes In Illustrator
42. How To Make Multiple Lines Using Offset Path In Adobe Illustrator CC
DEPTH, PERSPECTIVE & 3D
43. Introduction To 3D In Adobe Illustrator CC
44. How To Make Semi Flat 3D Icons & UI Design Using Adobe Illustrator CC
45. How To Make The Paper Cut Effect In Adobe Illustrator CC
CHARTS & GRAPHS
46. How To Make A Pie Chart Line Graph & Bar Graph In Adobe Illustrator CC
ARTBOARDS & PAGES
47. Advanced Artboard & Pages Tricks In Adobe Illustrator CC
CREATIVE CLOUD
48. Advanced CC Libraries Adobe Stock And Adobe Market
IMAGES
49. Advanced Image Tricks & Tips In Adobe Illustrator CC
TRANSFORM, DISTORT & BLEND
50. How To Distort Bend Shapes & Type In Adobe Illustrator CC
51. How To Make A 3D Ribbon In Adobe Illustrator CC
52. How To Create Lots Of Lines That Blend Together In Adobe Illustrator CC
53. How To Make 3D Gradient Lettering Blends In Adobe Illustrator CC
54. 49. How To Make A Linocut Effect In Adobe Illustrator CC
55. How To Use The Puppet Warp Tool In Adobe Illustrator CC
56. Transform, Distort & Blend Quiz
WEB UI DESIGN
57. How To Use Adobe Illustrator For Web & UI DesignANIMATING
58. How To Make An Animated GIF Using Adobe Illustrator CC
CONCLUSION
59. What Next After Your Illustrator Advanced Course
FINAL QUIZ
Who This Class Is For
People who already understand the fundamentals of Adobe Illustrator
People who took Daniel's Adobe Illustrator Fundamentals class
Illustrators who want to enhance their existing skill set
Professional artists who want to move their art to a digital platform
Designers with an Illustrator background who want to master the program
Freelancers already working with Illustrator and wanting to learn advanced skills
Advanced level
About Daniel Walter Scott
An influential media designer, Advanced Adobe Certified Instructor and dedicated teacher to thousands of students for over 15 years. Daniel is a speaker and multi-award winner at the prestigious annual Adobe Max conference.
More courses from the same author: Daniel Walter Scott
---
DELIVERY POLICY:
When will I receive my course?
You will receive a link to download your course immediately or within 1 to 21 days. It depends on the product you buy, so please read the short description of the product carefully before making a purchase.
How is my course delivered?
We share courses through Google Drive, so once your order is complete, you'll receive an invitation to view the course in your email.
To avoid any delay in delivery, please provide an Gmail and enter your email address correctly in the Checkout Page.
In case you submit a wrong email address, please contact us to resend the course to the correct email.
How do I check status of my order?
Please log in to Skills Course account then go to Order Page. You will find all your orders includes number, date, status and total price.
If the status is Processing: Your course is being uploaded. Please be patient and wait for us to complete your order. If your order has multiple courses and one of them has not been updated with the download link, the status of the order is also Processing.
If the status is Completed: Your course is ready for immediate download. Click "VIEW" to view details and download the course.
Where can I find my course?
Once your order is complete, a link to download the course will automatically be sent to your email.
You can also get the download link by logging into your skillscourse.net account then going to Downloads Page.
You may also like:
The Topic Of Hard Skills – Soft Skills
See More Film Editing Pro Courses
See More Parker Walbeck Courses
The Topic Of Martial Arts
See More Expert Boxing Courses
See More Russell Stutely Courses
See More Barry Robinson Courses
The Topic Of Fitness And Sports
See More J3 University Courses
See More Bruce Frantzis Courses
See More Christian Thibaudeau Courses