Description Of How to Edit Video in DaVinci Resolve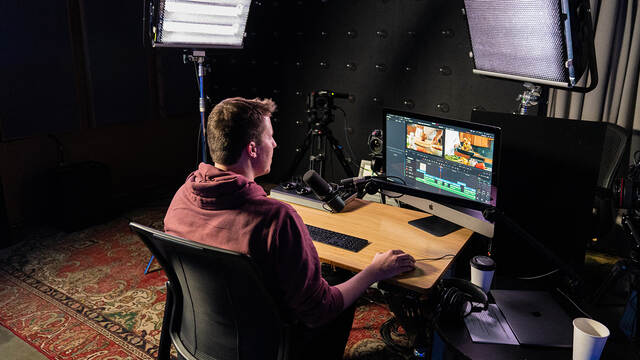 Learn The Fundamentals Of Video Editing On DaVinci Resolve
AFTER THIS CLASS YOU'LL BE ABLE TO:
Learn how to use DaVinci Resolve 17
Select video clips to tell a compelling story
Compile and refine your initial edit
Add and adjust audio and titles to support your video
Export your masterpiece for your ideal destination
About Casey Faris's Class 
Video editing does not have to be complicated or expensive. In just a few lessons, you can learn how to create compelling videos using professional grade software, DaVinci Resolve 17, with pro-YouTuber and expert DaVinci video editor Casey Faris.
Casey takes you step-by-step through the basic stages of video editing:
What you'll need to get started with DaVinci Resolve 17.
How to fit the individual pieces together to construct a video.
How to use DaVinci Resolve to separate audio and video.
How to adjust audio levels and build a title.
He'll then show you how to polish and render your masterpiece so you can share it with your biggest fans.
Drawing from his experience and expertise as a video editor, Casey can help you harness the power of video to tell stories and create compelling content. He'll give you all the tools to create a cohesive, next-level video.
If you're looking for a place to start with DaVinci Resolve, this is it.
Who This Class is For:
People who are new to video editing or who have never used DaVinci Resolve
Thought leaders looking to use video to connect with more people
Creatives looking to learn video editing on industry-standard software
SOFTWARE USED:
DaVinci Resolve 17
What you'll learn in How to Edit Video in DaVinci Resolve
Class Introduction
Hardware
DaVinci Resolve Overview
Edit Page
Cooking A Story
The Ingredients For The Story
Media Pool – The Pantry
Source Viewer – Inspecting The Ingredients
The Cutting Board
Timeline Is Where The Story Is Made
Controlling Clips On The Timeline
Control The Clip Order
Trimming Clips
Control The Timing Of The Story
Setting In's & Outs In The Source Viewer
Editing In Passes: Intro
Edit Pass #1: Rough Cut
Edit Pass #2: Smooth It Out
Edit Pass #3: Get Picky
Audio
Basic Titles
Rendering
Further Learning
About Casey Faris
Casey Faris is a self-described "video nerd" who creates tutorials and vlogs about video editing, color correction, and all things related to post-production for the 250,000+ subscribers to his YouTube channel.
More courses from the same author: Casey Faris
---
DELIVERY POLICY:
When will I receive my course?
You will receive a link to download your course immediately or within 1 to 21 days. It depends on the product you buy, so please read the short description of the product carefully before making a purchase.
How is my course delivered?
We share courses through Google Drive, so once your order is complete, you'll receive an invitation to view the course in your email.
To avoid any delay in delivery, please provide an Gmail and enter your email address correctly in the Checkout Page.
In case you submit a wrong email address, please contact us to resend the course to the correct email.
How do I check status of my order?
Please log in to Skills Course account then go to Order Page. You will find all your orders includes number, date, status and total price.
If the status is Processing: Your course is being uploaded. Please be patient and wait for us to complete your order. If your order has multiple courses and one of them has not been updated with the download link, the status of the order is also Processing.
If the status is Completed: Your course is ready for immediate download. Click "VIEW" to view details and download the course.
Where can I find my course?
Once your order is complete, a link to download the course will automatically be sent to your email.
You can also get the download link by logging into your skillscourse.net account then going to Downloads Page.
You may also like:
The Topic Of Hard Skills – Soft Skills
See More Film Editing Pro Courses
See More Parker Walbeck Courses
The Topic Of Martial Arts
See More Expert Boxing Courses
See More Russell Stutely Courses
See More Barry Robinson Courses
The Topic Of Fitness And Sports
See More J3 University Courses
See More Bruce Frantzis Courses
See More Christian Thibaudeau Courses