The Ultimate Guide to Shooting, Editing, and Profiting from Epic Aerial Video
AVAZ is an online course that's designed to be your final source to learn Drone Videography – filming, flying, and editing, then how to get views and market.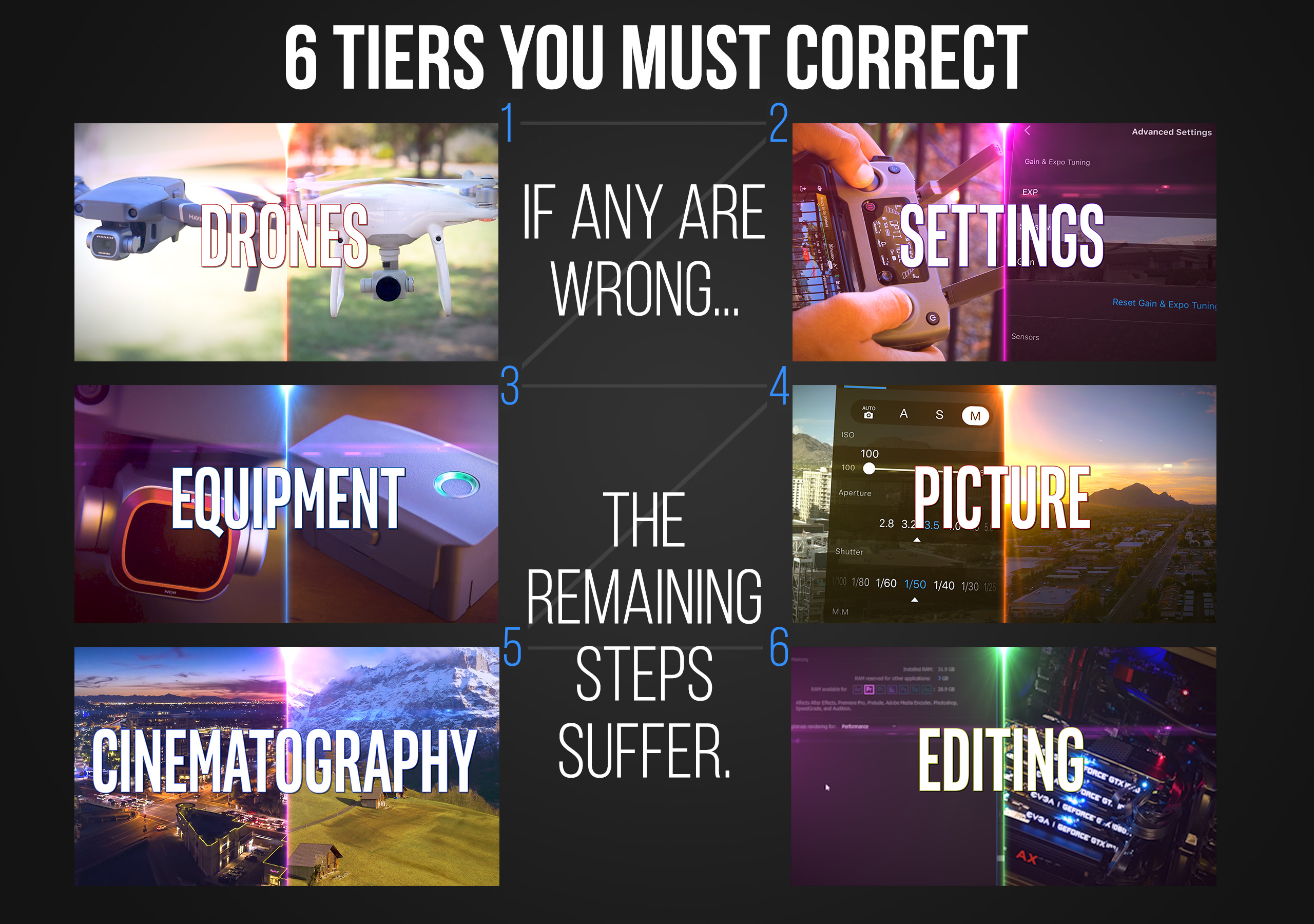 In Aerial Video A to Z you'll learn
What type of equipment (computers, software, drones) you do AND don't need;
How to tweak the settings on your drone to capture the best looking picture (we cover all of the most popular DJI models and give you applicable advice, even if you have a different drone);
The basic of video: resolution, frame rate, the difference between .mp4 and .mov file formats and when is best to use each;
Pre-flight planning and how to avoid amateur mistakes;
Flying, filming, and cinematography – teaching you what to aim for and how to capture those super smooth drone shots;
How to CORRECTLY film slow motion footage;
Step-by-step walkthroughs of the editing software, so you know EXACTLY what to do and where to go (so it's not overwhelming);
Pro tricks for speeding up the editing process and workarounds for dealing with 4k footage (note: 4k footage traditionally takes a LONG time to work with since its so big…but we have a shortcut);
Advanced editing techniques like…
How to arrange your footage to be the most visually appealing and keep viewers engaged;
How to fix shots when something ugly is in the corner of your frame;
How to fix shaky footage so it's still usable;
The right way to put in titles, logos, and other graphic items;
How to go from flat and bland footage to video that pops with the perfect color balance;
Salvaging footage that is too bright (overexposed) or too dark (underexposed);
Adding music – where to find it, how to line it up with your video for maximum impact; and
How to export your work so that its shareable but still maintains great quality.
AND, as an added bonus…
About Alexander Harris
Licensed Drone Operator, flown in 11 countries. Award Winning Drone Photographer. Full-Time Video Editor/Animator and Camera operator for 10+ years. (Mavic 2 Pro, Mavic Air 2, Mavic Mini, Inspire 2 + X5S CinemaRAW, Autel Evo II Pro 6K)
More courses from the same author: Alexander Harris
Proof
---
DELIVERY POLICY:
When will I receive my course?
You will receive a link to download your course immediately or within 1 to 21 days. It depends on the product you buy, so please read the short description of the product carefully before making a purchase.
How is my course delivered?
We share courses through Google Drive, so once your order is complete, you'll receive an invitation to view the course in your email.
To avoid any delay in delivery, please provide an Gmail and enter your email address correctly in the Checkout Page.
In case you submit a wrong email address, please contact us to resend the course to the correct email.
How do I check status of my order?
Please log in to Skills Course account then go to Order Page. You will find all your orders includes number, date, status and total price.
If the status is Processing: Your course is being uploaded. Please be patient and wait for us to complete your order. If your order has multiple courses and one of them has not been updated with the download link, the status of the order is also Processing.
If the status is Completed: Your course is ready for immediate download. Click "VIEW" to view details and download the course.
Where can I find my course?
Once your order is complete, a link to download the course will automatically be sent to your email.
You can also get the download link by logging into your skillscourse.net account then going to Downloads Page.
You may also like:
The Topic Of Hard Skills – Soft Skills
See More Film Editing Pro Courses
See More Parker Walbeck Courses
The Topic Of Martial Arts
See More Expert Boxing Courses
See More Russell Stutely Courses
See More Barry Robinson Courses
The Topic Of Fitness And Sports
See More J3 University Courses
See More Bruce Frantzis Courses
See More Christian Thibaudeau Courses